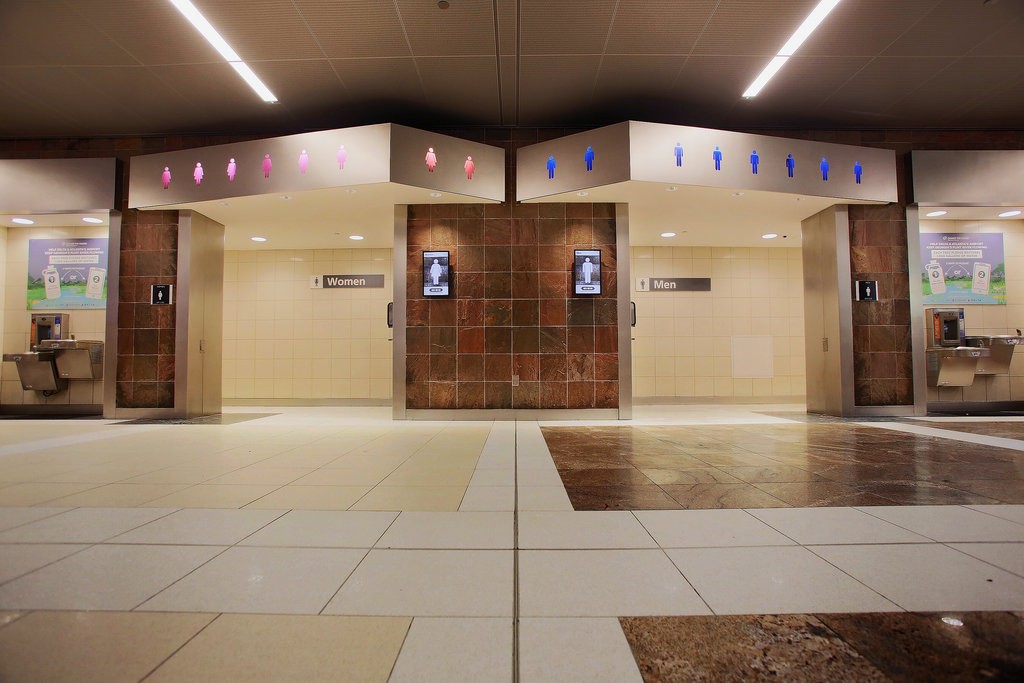 Real-Time Data Analytics Platform Leads Smart Restroom Initiative to Solve Crowded and Inefficient Restrooms at Busiest Airport in the World
ATLANTA (July 31, 2018) – As part of the growing smart restroom trend, Infax, the data-driven provider of innovative information technology (IT) solutions for airports and other public venues, announced today that it launched its TRAX® SmartRestroom facility analytics system in a pilot program in its home town at Hartsfield-Jackson Atlanta International Airport (ATL). The Infax technology will help the busy airport improve facilities management by providing real-time data that allows staff and restrooms to run more efficiently.
Airports and airlines nationwide have recently been investing in data collection and high-tech signage that spans from security to the restrooms and have invested nearly $33 billion in IT in 2017 to improve the passenger experience. Infax provides software solutions that improve the customer experience in venues throughout the country, both in the public and private sector. At ATL, Infax provides its real-time passenger and custodial analytics monitoring system that monitors how many passengers have utilized the location and passively monitors the time the attendant arrived on site to clean by utilizing TRAX SmartBadges. The system provides predictive analytics based on real time flight information and also accepts and integrates data from other end points such a passenger feedback tablets, and stall occupancy systems.
"Clean and efficient restrooms rank a top priority for travelers, and airports are responding as an overall goal to enhance the passenger experience," said Tracy Davis, Vice President of Sales and Business Development, Infax. "ATL is ranked the busiest airport in the word, serves over 100 million passengers a year, averaging 275,000 a day. The Infax TRAX® facility analytics system helps airports like ATL with improved facilities management."
Infax technology is operating in more than 65 airports across the U.S. and is now live in ATL's concourse B restrooms, serving two of Delta's busiest restrooms with potential plans to expand to additional restrooms and terminals.
As part of ATL's $6 billion modernization program and in preparation for the summer vacation traffic, Infax has also partnered with TooshlightsÒ, the only smart restroom traffic management system that helps guests "know where to goÒ."  These efforts are in partnership with the Atlanta Airlines Terminal Corporation (AATC) to bring the smart restroom of the future to ATL.
The Infax integration with Tooshlights will work similarly to parking garage lights, notifying travelers when a stall is ready to be used. Feedback data from each passenger's user experience will be tracked and stored by Infax and the system will provide real-time data so that staff can be alerted when the restrooms need to be cleaned.
 "The Atlanta Airlines Terminal Corporation has been working for a couple of years to reinvent the restroom experience for our passengers and create the smart restroom of the future.  We are excited to incorporate Infax and Tooshlights technology into our overall vision of enhancing the restroom servicescape for our quest and passengers", said Kofi Smith, President and CEO of AATC.
In April 2018, Infax and Tooshlights unveiled the TRAX® SmartRestroom pilot at LAX with more installations planned for the upcoming months. Infax's TRAX® SmartRestroom pilot was first adopted by Houston Airport System in 2017, providing administrators with information and analytics to respond quickly to service points and stay ahead of the demand curve even during the busiest travel seasons. It has since expanded to more than seven airports and convention centers.
For more information please visit www.infax.com.
About Infax, Inc.
Infax is dedicated to helping its clients effectively communicate with the people it serves. The company strives to improve business operations and the customer experience with the most innovative software solutions and services in the public and private sectors.